Website for a hotel: what should it look like in 2021?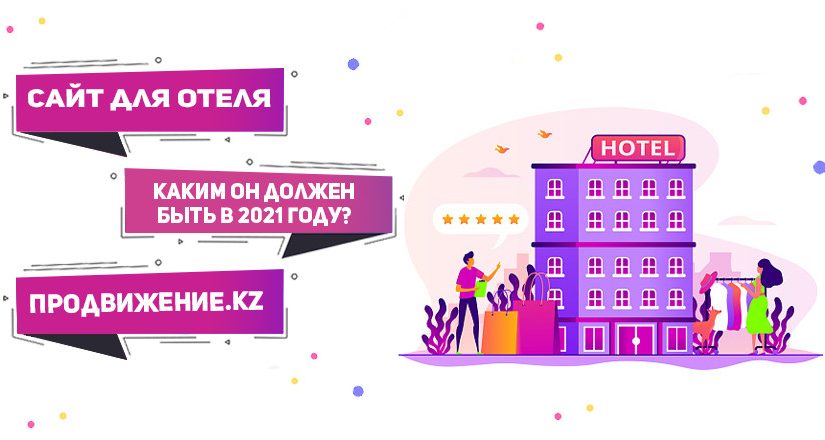 At first glance, it seems that tourists are using aggregators, with the help of which they book rooms in hotels. Consequently, creation of a website for a hotel not necessary. But this is not the case. Many people feel uncomfortable and would like to make a reservation directly through the site.
The presence of its own website at the hotel leads to an increase in profits. Of course, there are a number of additional problems associated with the creation, promotion and technical support of the site. But many are successfully resolved.
Why does the hotel need a website?
Of course, aggregator sites are well known, and search engines like them more. Nevertheless, the official web resource solves many tasks that are beyond the power of aggregators:
Increased profits. The commission charged by aggregators is as high as 40 percent, which increases the cost for the tourist.
Customer interests. The site will allow you to form a specific offer to customers, while various booking services provide the right to book without a distinct selling component.
Repeated calls. If a person has booked a room through the site, then they are more likely to contact the same place (if arranged).
Brand. If you want to stand out from the background of other hotels, you still need to take care of creating your own web resource.
Additional services. Part of the hotel's profit comes from weddings and other services. It will not be possible to provide such services through booking resources, but completely through official web resources.
Working with the B2b sector. It is easier for businesses to cooperate directly with the hotel, rather than through intermediaries.
Guarantees. There is no risk that the aggregator will refuse to cooperate.
Saving time. There is no need to spend too much time on forming partnerships with the aggregator.
Image. The presence of the resource itself is credible.
And due to the fact that there is the possibility of developing a turnkey web resource, saving a lot of time for creation and promotion is available. Thus, there will be no shortcomings.
If you contact the studio high-quality website development will not cause difficulties.
Hotel website features
An obligatory component of a competent hotel website is planning. Before you create it, you need to provide the following aspects:
The structure of the web resource. The usability of the resource depends on it. Sections should be logically linked to each other.
Administration methods. Be sure to connect specialized CRM, which allows you to automate business processes.
Mobile responsiveness. Without this, it is difficult to attract customers, as well as get into the TOP of search results.
Download speed. Clients do not like to wait until all the main pages of the resource are loaded.
Server stability.
Traffic sources and links.
Inherent advantages to stay ahead of the competition. Create a unique selling proposition - an offer you can't refuse and one that your competitors don't have. This is something special and something that clearly falls into the needs of the target audience. USP is created in one sentence, no more. The wording is easy to remember.
Some people create a standard landing page on which they provide an opportunity to book. It's easy because you only need to create a home page and adapt for smartphones.
Mandatory elements on the hotel website
There is no universal recommendation for creating a good web resource for a hotel. However, the following components need to be implemented:
Contacts. The more ways to connect with customers are provided, the better. On a high-quality web resource, they are posted in prominent places, as well as on a separate page. Moreover, all communication buttons must be clickable. That is, if a person presses a phone number, a call should be made (if the person uses the resource from the phone), e-mail - the interface for writing a letter should open, and so on.
Online booking. An obligatory component of the site, including the ability to check the availability of rooms and book a suitable one. Ideally, if you can book additional services: a beauty salon, a conference room, a room in a restaurant. The last point will help to attract an audience not only from those who will live in a particular hotel.
Online payment system. Take care of your SSL certificate separately to keep your payments safe.
Gallery. A good resource always contains colorful selling photos.
Information for visitors, including the schedule, type of food, room equipment, directions and a number of other useful information for clients. As for the driving directions, on a mobile device it should be possible to immediately open it in the navigator.
Ratings and reviews. Be sure to provide a form that visitors can use to leave feedback. This will help customers feel confident that the responses are real.
Special attention should be paid to the legal aspects.
SEO for hotel website
A basic search engine optimization setup for a hotel includes:
Placing a web resource in the TOP of search engines.
Filling meta tags.
Selection of the semantic core and insertion of keywords with queries on the pages of a web resource.
Optimizing content and publications to match these key phrases.
A separate requirement is the relevance of information. The pages should not have winter offers in the summer, for example.
It is also recommended to add informational content - articles, news, videos. All this contributes to the loyalty of the audience, which will visit the site much more often than increase it in the search results.
Summary
Thus, creating a resource and promoting it to the TOP of search engines is an easy task. However, it can take a lot of time and effort. To solve this problem, contact the professionals from the Progress.kz studio, which provides website promotion services not only in Almaty, but also in Kazakhstan as a whole.